Meet Frank*
Frank is a security guard.
Frank works at the Bridges shopping centre in Sunderland.
Frank thinks I may be a paedophile and is prepared to call the Police to make sure I'm not.
Frank is just obeying orders…..
Here's what happened
We were in Sunderland visiting my Dad and my Gran. My Dad had given the kids £10 each and Ben wanted to go and buy a toy so we took him into the Bridges shopping centre. While we were walking around we saw a little roundabout with a train on it. Ben loves trains and he went and clambered onto it. The train had a moustache and Sarah was laughing at the train so she told me to take a picture.
As soon as I pressed the button on my cameraphone Frank was by my side. He informed me that I couldn't take pictures. I asked him why and he said that it was the centre's rules as I might be a paedophile! I told him that I hadn't seen any signs saying that photography was forbidden and he conceded that there weren't any but he was just following his orders from the Centre Management who he would get to come down if I had a problem.
I informed him that in my opinion he was being a little over zealous in performing his duties as the child I had taken a picture of was my son and that maybe he was blowing the threat of paedophiles out of proportion. He said he wasn't as he was just following orders from on high.
I was getting bored now but was still annoyed about effectively being accused of being a paedophile so I took the picture of Frank so that if I later wanted to make a complaint to the centre I would be able to identify him. I then wandered off to find Sarah who was in the Early Learning Centre. Â This is of course ironic that if he really did suspect me of being a paedophile then why did he let me go into a toy shop? And if he didn't suspect me why then did he make such a fuss?
The other irony is that having being pulled up for using a camera I was then tracked by the centre's security cameras – I know this because the Police knew exactly where to find me when they arrived a few minutes later. We had moved up the road into another toyshop where, while looking at toys with Ben, I was confronted by PC B*****w who informed me that there had been a complaint.
PC B*****w threatens to arrest me on more than one occasion.
PC B*****w is ill informed about his ability to delete my photographs
PC B*****w doesn't know what a hyphen is!
So in the middle of a toyshop the confrontation starts again. I'm asked about the original photograph and again I explain that the picture is of my child, again I comment about the lack of signs informing about the "No Photography" rule and PC B*****w agrees with me. Â he asks why I took the picture of the security guard and accepts my explanation.
As the discussion is getting a bit heated he threatens to arrest me, saying that I'm causing a breach of the peace. Well come on, what do you expect, I've been accused of being a paedophile and had the Police set on me for taking a picture of my own son in a public place – can't you work out why I'm getting a bit annoyed.
He says he has the right to delete my photographs and I explain that he doesn't. He backtracks and says he has the right to see them. I tell him he will have to caution me first. He asks for my details which I begrudgingly give him. he asks why I am in the North East – I ask what relevance that has. He explains that he just needs to know!
PC B*****w also informs me that the Bridges shopping centre is a hotbed of paedophile activity and sexual assaults happen there all of the time. Sounds like the sort of place families with young children should avoid IF it's actually true.
Eventually he goes off to find the security guard and tell him that he has checked me out and everything is ok! A monumental waste of Police time. The lady in the shop is appalled by the situation and admits that even though she works there she wasn't aware of any "No Photography" policy.
Now I know that there are those who will say that I brought it on myself and I should have just kowtowed to the security guard when he told me not to take pictures. However I disagree – I believe I had every right to take a photograph of my son in a public place and frankly I'm sick of having my civil liberties eroded little by little.
In this country there is no law against taking a photograph in a public space. The shopping centre, although privately owned is still a public space. I know from experience that commercial photography requires permission from the owners but there is no law against the private individual taking a picture in a public space.
The shopping centre could impose a ban on photography within it's environs but this should be indicated along with all the other things that are banned on the entrance to the centre. There are signs saying no smoking, no alcohol, so skateboards etc but none advertising the alleged ban on photography.
Also there is no law against taking a picture of a child or indeed a security guard in a public place. There is no right of privacy for the individual in this country. So I was well within the law to take both pictures.
Finally there is the presumption of guilt. It has been a long held tradition in this country of being innocent until proven guilty and it is beholden of the authorities to prove a persons guilt. However more and more often it is the individual that is required to prove their innocence. I took a picture of a child therefore until I can prove I am not a paedophile it will be assumed that I am.
The sensible way forward would be only to observe and if I was seen to be taking pictures of more than one child then would be the time to move in but no – in order to protect us from a minority of people everyone must be suspected and prevented from taking innocent pictures of their child. Is this really the sort of world we want to live in?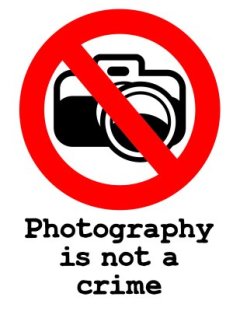 It's ironic that at a time when almost every one has the ability to take a photograph using either a camera or a mobile phone, probably more so than ever before, then the ability to do so is slowly being eroded. Fight back – Photography is not a crime. I am not a terrorist, I am not a paedophile, I am a Photographer!
* name may have been changed