Looking back I remember going to this event but in my mind we didn't stay very long as I thought we had ran out of money and wandered off to find a cashpoint but had to go so far that we didn't bother going back – maybe that did happen as it might explain a few things but if it did it happened much later in the day than I originally thought as the listing in my gigs book and the photographs suggest we were there till at least 8pm.
If I recall correctly we had been up into central London the day before – Bruce Springsteen was playing a number of gigs at Wembley Stadium and the story was that the ticket touts could barely give away the tickets and were selling them for less than face value. So we headed over to see if it was true but we got the timings wrong and Springsteen was already on stage when we arrived and there weren't many touts around. Not wanting to spend money going in only to find it was nearly finished (I'm sure he was playing Born to Run as we arrived but I could be wrong) we were going to give up when we noticed queues outside the Arena. It turned out Dire Straits were playing and we stood for a while trying to decide if we wanted to buy tickets off a tout but just as they were coming on we gave up and headed home!
The next day we headed back up to town to go to a GLC gig in Battersea Park. Margaret Thatcher's government was closing down the GLC as they thought it was run by a load of commies and that just wouldn't do! So in order to spend as much money as they could and to highlight the mess the Conservatives were making of the country they decided to put on a series of free gigs in parks around London! I'm pretty sure we were living in Thamesmead by the time this gig came round so it was quite a trek up to London but I probably had a weekly travelcard so I would have got free travel.
I know one of the bands I really wanted to see was The Men they couldn't hang but as we arrived we passed one of the stages and the band were just finishing what turned out to be their last song! I was gutted!
Judging from the list of bands we saw I think we must have spent much of the rest of the day in front of the main stage. I certainly listed Steve Whalley, Working Week and Billy Bragg as bands that I saw and I have pictures of Ken Livingstone speaking on the main stage. I'm also guessing from the photographs that we went right down the front to watch Billy Bragg.
The other thing I remember from the day was that there was an unannounced act on the main stage – Jimmy Sommerville. I think he had just left Bronski Beat and I'm pretty sure that he was introduced as Jimmy Somerville and Friends even though the band probably was The Communards.  It may even have been their first gig!
This is where the mysteries start! I have a photo of what appears to be Hank Wangford on the main stage – he's not listed as being someone I saw that day but he did appear on one of the smaller stages. I think, racking my brains, that maybe he introduced his friend Billy Bragg!
The other mystery is that I have the Pogues and the Beat Farmers listed but don't remember seeing either band or going to the stages they were on. Looking at the map of the site in the programme I think that maybe I saw bits of both bands as we left the site in search of that cash machine. Aswad and OMD were on later that evening and I would imagine I would have liked to have seen both bands so I think we probably did intend to return but ended up so far away by the time we found some cash we decided not to bother!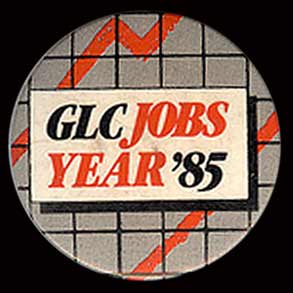 This is the list of the bands we saw that I wrote down at the time:
The Men they Couldn't Hang
The Pogues
The Beat Farmers
Steve Whalley
Working Week
Thomas Mapfumo
Jimmy Sommerville
Billy Bragg
Billy Bragg Setlist
Man In The Iron Mask
There Is Power In A Union
Springsteen Tickets
A New England
Island Of No Return
It Says Here
People Get Ready
A Lover Sings
Jeane
World Turned Upside Down
Which Side Are You On?
Between The Wars
Days Like These
To Have And To Have Not
A13
I discovered that I had a bootleg cassette of The Men They Couldn't Hang's set hiding in the attic!
The Day After
Jack Dandy
Ironmasters
Whiskey With Me Giro
Johnny Come Home
Greenback Dollar
Green Fields of France
Walkin' Talkin'
Rawhide
Kingdom Come
Donald Where's Your Troosers
Found this video of the Pogues set